Kenyan youth groups use graffiti to spread corona message
By Otiato Opali in Nairobi, Kenya | chinadaily.com.cn | Updated: 2020-05-06 21:02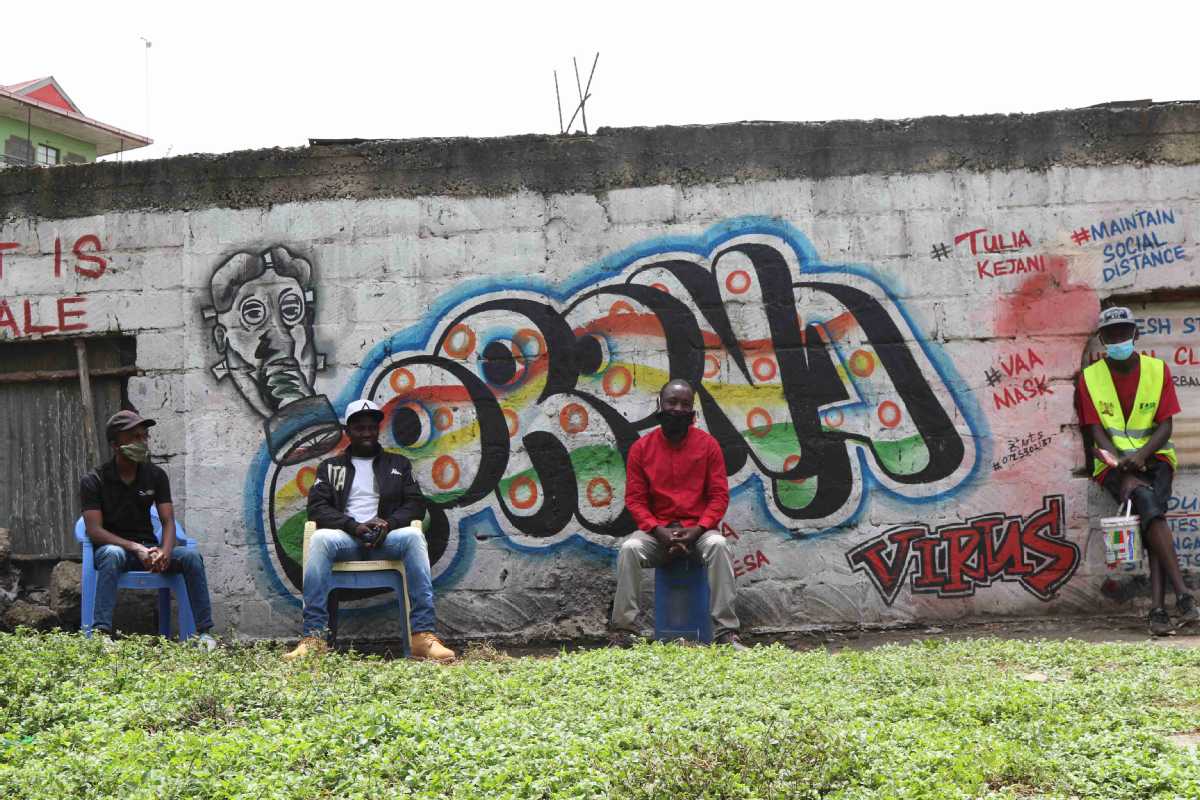 Wahenga Youth Group and Kushites Kreations Youth Group, a collaboration of youth groups from Kenya's capital in Nairobi, have taken to graffiti to create awareness on the dangers and existence of the coronavirus. Coming together in April, the two groups have resorted to using graffiti, placards, music and social media engagement to bring together organized and registered community groups to raise awareness about the virus.
According to Samuel Omare, a leader of the Wahenga youth group and an advocate for the Public Space Network in Kenya, they have been rehabilitating public spaces since 2018. Once the pandemic struck, they decided to use their expertise to sensitize the masses, since the public spaces they rehabilitate are vantage positions to pass messages to the public.
"Our work has been recognized globally and the youth in our community see us as pacesetters. That is why most of the messages we spread through our art attracts attention and our main aim is to make our community pay attention to the directives that can keep them safe", Omare said.
"We work on a volunteer basis and when the government challenged youth to use skills to help in the fight against coronavirus, we decided to convert our beautification work into a medium through which we can remind members of our communities about the existing threat of the virus," Omare added.
In April Mutahi Kagwe, Kenya's health cabinet secretary, urged youth to use their energy and their organizational prowess to help the country in the fight against the coronavirus pandemic. Kagwe told the youth to join the government in creating awareness among Kenyans on the need to obey directives issued by the government.
Antony Kihoro, an artist from Kushites Kreations who has been painting most of the murals, said that art is the main contribution his group can make in fighting against the coronavirus. They might not be able to help the poor with sanitizers, face masks or even food during these difficult times but through their art, they are able to remind people to stay safe.
"Our art is unique and it captures attention, especially among children. That is why we use it to spread such messages. People get attracted to the art but once they read the message, some awareness is raised in them. Our messages contain the regulations given out by the Ministry of Health but in a form that our community can consume," Kihoro said.
Kenya, which has confirmed 535 cases and 24 deaths, announced that it would start mass testing in a bid to get control over the virus. However, public response to mass testing has been lackluster and groups like Wahenga and Kushites Kreations are hoping to raise awareness levels and bring government directives to people's attention.